Mississippi Duck Stamps & Prints
The Mississippi Duck Stamps are reproduced as a lithographic print on acid free paper with fade-resistant inks. The image is 6" x 9", printed on 12" x 14" paper.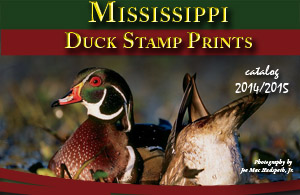 A percentage of the proceeds goes to The Mississippi Department of Wildlife, Fisheries and Parks to be used in the continuing effort toward waterfowl conservation in Mississippi.
Duck Stamps Prints: Please email or call us to order:
Click image for Pricing
Regular Edition or Artist Proof? What is the difference in a Regular Edition and Artist Proof print Mississippi Duck Stamp or Sportsman License Print? The number of prints for the edition is the only difference. There are 500 Regular Edition and 75 Artist Proofs. The prints are the same size and both are signed, but the numbering is different. For example a Regular Edition would be number as 50/500 and an Artist Proof would be 50/75 AP.